" STAIRWAY TO THE STARS "
~ A Journey into the Darkly Humorous Heart of Lost Hollywood ~
a narrative short film by
Lorenzo DeStefano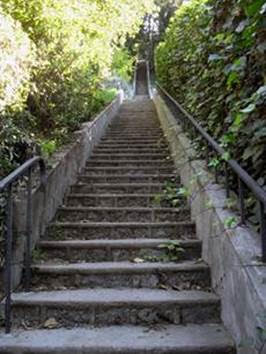 TIME – The Present
PLACE – The Hollywood Hills
CAST
LAVERGNE, a Woman of a Certain Age
TONY, a Heavy-Set Young Man
"Stairway to the Stars", by Honolulu-born writer Lorenzo DeStefano,
was first produced as a one-act play in 2019 at PlayBuilders of Hawai'i.
DeStefano and his filmmaking team are currently in pre-production
on a short film adaptation, to be filmed on the same Hollywood Hills locations
where the original incident took place.
When Lorenzo first moved to L.A. he lived in an attic apartment in Beachwood Canyon,
in the shadow of the fabled Hollywood sign.
There was an incredibly steep flight of stairs next to the house,
one of many still existing in the movie capital of old.
One hot, smoggy afternoon Lorenzo heard, through an adjacent window,
an elderly woman and a very large young man berating each other as they climbed.
As writers do Lorenzo eavesdropped on this highly charged exchange between strangers.
When the two were out of range Lorenzo hurried to his desk and wrote it all down.
In the tradition of the countless two-reel comedies shot in these very hills nearly a hundred years ago,
"Stairway to the Stars" explores the love-hate relationship between Lavergne, an aging, Southern-born actress,
and Tony, a much younger gay man of ample proportions.
Their complex relationship, humorous, tragic and deeply touching,
gradually reveals itself between the bottom of the stairs and the top.